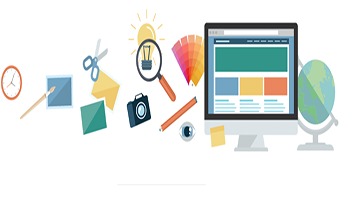 Future of Web Design
Since the first release of WWW, the presentation of the information has played a vital role in the field of websites. The visual representation has significantly improved as new users are added to the World Wide Web, and web trends are more and more integrated with everyday life. With this, the technology of the web has also trumped. As there has been a renovation in how people interact and access the internet - the way web designs are made has also been changed.
In this context, as long as there is a worldwide web, there will be a need for web designers. Because technology is always evolving and evolving at a rapid rate. The technology implemented this year becomes stale within the next year. Taking account of this scenario, web designers also need to keep up with the latest trends and tools.
Ideal Career path for a web designer in Nepal
---
If you decide to become a web designer. Here is an ideal career plan. Though it is not strictly mandatory to follow this path. It is one way you can kick start your journey to become a full-fledged web designer.
Junior Web Designer (Learn HTML, CSS, Adobe Suite of Tools, and Basis JavaScript): You can either learn yourself or visit any of the computer training centers in Nepal. If you opt for self-learning procedure, make sure you have an internet connection and a decent computer. If you decide to join a computer class, it is suggested that you meet previous students and/or ask them about previous projects because their past success is one approach to authoritatively gauge the quality of their classes. The most compelling reason to take classes from computer learning center is Networking. As the market is competitive, knowing the leader in the industry is indispensable. This will especially help you at the beginning of your career.
Mid-level Web Designer (Master HTML, CSS, and Intermediate JavaScript Skill, Have a strong portfolio): As a mid-level web designer you should be able to work yourself. To reach up to this level, you have to take an advanced course on web design. There are many web design training centers in Nepal, especially in Kathmandu.
Senior Web Designer (Able to handle a project from start to finish): After 3-4 years of experience, you can call yourself a senior web designer. At this level, you should be able to lead a team of junior and mid-level designers.
It was a quick look into the web designers' career plan residing here in Nepal. You can further enhance your career by getting basic training in backend development using tools such as PHP, laravel, etc. In the Nepali market, PHP is favored over other frameworks because getting hired in other backend languages/framework is competitive and demand is very low. Though the situation is slowly improving day by day. Regardless, PHP is a great framework, as we know that more than 60% (as of 2019) of the sites run on Wordpress which is developed with PHP.
Hence, taking PHP training classes is a solid path to your journey to backend development. Here in TechAxis, we offer a comprehensive coaching service for a full-stack PHP web development. Even if you don't want to learn all the front end stuff in detail - we cover these topics in brief and dive into the advanced web development materials. After the coaching is completed, you will be able to get an internship in backend development. To get started, you can either give us a call or send us an email.
Learn more about Brief history On Web Designing , Web Designing Introduction , Roles And Type of a Web Designer and Scope of Web Design Career in Nepal .