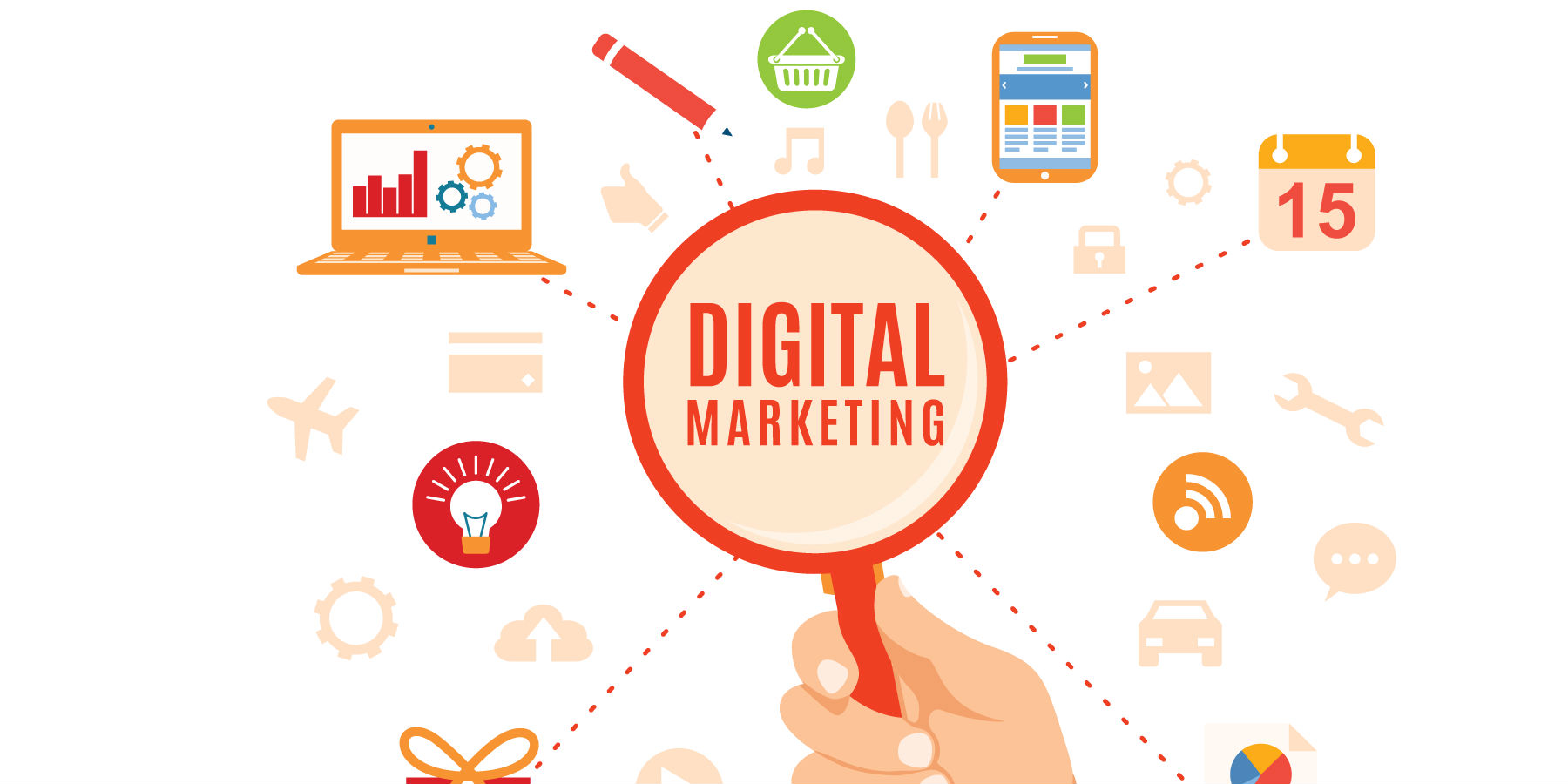 Digital Marketing career and scope in Nepal
Imagining a life without the internet in the 21st century is a Turmoil. Nepal is surely no exception in riding the waves of digitalization. Digital marketing has time and again proven to be a game changer in attracting the right mass to the organization. From mega corporates to small businesses and even startups, digital marketing has become a key factor in carving the pathway to a prosperous future. New and promising jobs are growing with it and one with the necessary skills and experience is destined to be benefitted considerably.
Digital marketing, in general, incorporate different marketing efforts that use an electronic device and most importantly the Internet. Composing, managing, upgrading and digitalizing the existing content will be the first step of Digital Marketing. Then comes the purely marketing part which takes different motions to make these contents reach the People. Together we have a complete set of constituents to form Digital marketing. In this article, we will go through all this and stay put for the important tips by the professionals here at TechAxis.
While there are different techniques of marketing your brand; keeping the skills in your arsenal to adopt any new approach makes you a valuable person in any company.
What Constitutes Digital Marketing?
Digital marketing is a very broad sector and progressive art to excel over time. Experience and improvisation come side by side in each stage for a marketing campaign to advance. However, you must learn about these various components and hone your skills in them to succeed with Digital Marketing in Nepal.
Content Marketing
Content Marketing is the foremost and fundamental base of any digital marketing which deals with the enhancement, accessibility, relevancy, and the overall quality of content. Its main goal is to strategically attract a clearly defined audience and to map them effectively to the services/products. This step is significant as other forms of marketing are nearly impossible without great content. YouTube is a surface-level example of content marketing. Good contents are quantifiable in terms of views.
Even if you are not a creator, identifying good content still falls under Content Marketing. Originality is a must here. Making diverse Content is the best way to engage with readers. With the help of infographics, case studies, podcasts, and more you can reach new heights in content marketing.
Search Enging Optimization
Search Engine Optimization (SEO) is a process of generating traffic to your webpage with the help of different optimization techniques. SEO covers all the free, organic, editorial, and natural variety of people
on the internet. SEO is a vast and evolving skill so it is very difficult to learn in a single go. SEO can be broadly divided into two types: on-page and off-page. On-page (Internal) SEO deals with the inbound links, slugs, meta-descriptions, tags inside from the website. Off-page (external) SEO manipulates different other factors like outbound links, backlinks, and promotions that occur outside of your web-page.
Together it plays a key role in good ranking in the Search Engine Result Page (SERP). SEO skills are well appreciated in big organizations and are an integral property if you are looking for a web career in Nepal.
Join the complete SEO course by Tech Axis for comprehensive skill development for being an SEO strategist in Nepal.
Social Media Marketing (SMM)
Social Media are the sites and applications that enable the users to share and create different content for the purpose to participate in social networking. As one of the best media to connect with the people being in social media is a must. A well-managed marketing strategy in social media helps the company to engage with the clients easily and effectively.

Social Media Marketing is basically controlling the flow of visitors on different major social media platforms (Facebook, Twitter, Instagram, YouTube, Linkedin, Whatsapp and more). Boosting and creating new content for social media are two important expertise to have for Media Marketing. SMM goes side by side with SEO to give better results.
Email Marketing

Email is one of the most widely used and reliable means of messaging in the world. Study shows about 3.8 billion people have email and almost half of them check it at least twice a day. Email marketing is a kind of practice to send various diverse content regularly with a motive to stay connected with the clients/customers. The progress is tracked with no email subscribers as well as the response percentage of sent emails.
Emails have a better conversion rate than other different digital mediums when it comes to signing up for business. You can get a customized e-mail for better reach and recognition. Making an email marketing strategy for a small business might be difficult. Having email marketing skills might be a fantastic asset for this case too.
Video Marketing

Video Content is one of the most engaging content format surpassing text and images. Video production certainly takes a lot of effort and costs a larger budget but the ROI (Return of Investment) is better than others. Video Marketing requires a fluent skill of videography and some knowledge of camera handling treats as a boon. Sharing, on the other hand, includes social media (YouTube, Facebook, Viddler, Vimeo, Dailymotion, etc) as well as other media (TV, screening, live stream, etc.). Video Marketing is an ideal foundation to base other different digital marketing formats.
Affiliate Marketing

Affiliate marketing is a form of marketing in which an affiliate (company) earns money through the marketing of other company's products. You can be on both sides of the deal when it comes to affiliate marketing. Trip Advisor, Facebook, and other companies generate most of their revenue from this form of Marketing. For small companies and startups as well as affiliate marketing is an important prospect of networking and brand marketing.
Pay per Click (PPC) Advertising

Pay per Click PPC Advertising or marketing is a model of internet marketing where you display your product or company in the biggest media in which you pay a fee each time your ad is clicked. It is a selected format of marketing. Almost every time only the person interested in your products/service is prone to click them. It is a more expensive but a filtered approach for marketing. For PPC marketing you must be able to know the content to advertise first. The second step is to choose the appropriate pan in which you will be placing the ads. PPC is a marketing technique for smart man and it is proven to be effective than other types.
Scope in Nepal

With all these skills you can choose from a wide variety of jobs. Digital marketing is generally a separate department with the freedom to operate in different companies. It means you can improvise and innovate for the betterment from the very first day of the job. The results speak of your level and one has to be up to date to different advancements and technologies to do better in the field of Digital Marketing.
Nepal above all other companies have a wave of entrepreneurs with various ideas coming out in recent years. Without a proper marketing strategy, most of these have failed to reach the heights they're meant to. As a digital marketer, you can provide strong support to any of these startups and rise with the company itself. The competition to do better is even more encouraging if you are involved in marketing for mid-level organizations. These are the companies in Nepal hiring most of the professionals in Digital Marketing. You can get in at a beginner's level or intern and work your way up to different levels faster than others. Travel and Entertainment are two popular sectors where you can find many possibilities.
Large organizations and corporations are constantly seeking for marketing strategists and employees for their department. If you have what it takes then you can join any of these mega-companies and be an integral part of the market dominance. The career path here will be joining at an entry-level position in digital marketing professionals. The rise continues to the head of the department and to be the executive member of the company. Big Banks, Shopping malls, e-commerce websites, multinational companies, and factories have a large intake in Digital Marketing with a reasonable salary and timely bonus. All in all digital marketing might be one of the most promising and prosperous IT jobs in Nepal heading into this new decade.
Let's look at top career options you can choose from within Digital Marketing.
Career
Social Media Manager
The main job of a Social Media Manager is to handle the social profile of a company. One must be aware of the social trends and talks too. Similarly, being adept at navigating different media is a must. A social media manager must be alert with the new changes and lead the adaption of new strategies regarding social media platforms. As most of the time, he/she has to coordinate with the team of graphic designers and content creators, social skills are required. Here is the job summary of a Social Media Manager:-
Staying up to date with trends and updates in various social media.
Researching the perfect audience, mass, groups for the marketing placement.
Generate, edit, and publish engaging content (sharing too)
Placing innovative ideas and new tips involving social media
Optimizing and managing all social media accounts
Make strategic decisions and campaigns to improve the social profile and brand of the company
As growth opportunities and promotions are limitless, setting up goals and staying highly motivated to it.
Content Writer
When it comes to the world of digital marketing, content is like the universal currency to run it. As the founder of Microsoft, Bill Gates once stated "Content is King", the value of superior content can't be neglected. Content writers are those individuals in charge of producing engaging content to use online. In other words, they are internet-savvy fitted to create and manage all forms of written web materials (Articles, Blogs, posts, etc.). Strong research skill is well-received and the ability to edit better makes content writers professionally sound. Here is a job summary of a content writer:
Write creative contents fit for the targeted mass
Materialize impressive heading and taglines for the content
Edit and improvise old contents
Copywriting (posts, research, and ads)
Pitch in creative headings, leads for videos and images
Editing content for the enhancement of grammar and vocabulary
Making diverse and easy to distribute content
Ability to write legal documents: - proposals, policies, reports, etc
Graphic Designer
Graphic designers provide the visual impact and are the core of any marketing campaign. From high-level decisions like rebranding to the very basics like picture sharing, graphic designers are always consulted. Being creative, motivated and good with different software, tools, and freehand drawings as well are the key skills to describe a graphic designer. Paving imaginations to their canvas, Graphic designers are a vital part of a company. Here is a job summary of a graphic designer:-
learn from consumer behavior and make changes in designs
Work with a wide range of different levels of software and tools
Catching the concepts quickly and present rough drafts in a short period
Creative thinking, research and innovate new design concepts, layouts, and graphics
High-level decisions and making decisions regarding the representation of designs
Able to change depending following comments and responses
working in coordination with content writers, executives, stylists, and more
Digital Marketing Manager
A digital marketing manager is the figurehead of any campaign overseeing the progress, strategy, and involvement in different aspects of Digital marketing. Mostly these are the personnel with tons of experience and holistic knowledge in Digital marketing. A digital marketing manager has an important job in the company and is easily among the most paid IT jobs in Nepal. Aiming for it is the right thing to do if you are confident, skilled and experienced enough. Here is a job summary of a Digital Marketing Manager:
Digitally managing and representing the company brand
Making vital decisions and strategy for others to follow on
Knowing the market competitors and make necessary changes
Coordinate different teams and avoiding disorder
Closely following the response/feedback from customers testers and strategize accordingly
Using economically feasible methods, identifying the key point indicators and leverage techniques for success
Communicate and motivate the team members
SEO Analyst/Professional
SEO is one of the major parts of a digital marketing team. One has to know various techniques and implement them to subsequently drive the traffic to the company website. It bends more towards the technical part of the website (structure and analytics) and improves them for better results. Here is a job summary for SEO professionals:
Manage the inbound section and make changes following timeline
Check for plagiarism, errors, and stagnant contents and manage them accordingly
Regular update and upgrade of different constituents of website
Following the Google algorithm and changing the website for betterment
Google webmaster and analytics analysis
Manage the off-page SEO with backlinks, directory submission, and others
Finding impressive and large volume keywords to include in the website
Working closely with the content writers and social media managers
Web Design and Development
Well, web design/development is an incredible career option on its own and it is a central point for digital marketing too. With a good and up to date website, many people engage and choose your brand before others. A better user interface and wide features result in great feedback and user experience. Marketing a good product/service will be even better with the involvement of good web designers. Here is a job summary for web designers in Digital Marketing:
To be up to date with new technologies
Identify fundamental and additional features for the website and change/create accordingly
Improve User Interface (UI) for better customer experience
Use easy navigation techniques for wide accessibility
Maintain user-profiles and different web systems
Check and resolve the errors and bugs in the website
Making the website secure and monitoring for malware/hazards
Adding to it there are many other career options like Growth Hacker, Affiliate Marketer, Blogger, Influencer, Automation specialists and so on. With fluency in skills and a creative mind, you can choose any of the above ones and thrive as a Digital Marketing Professional.
TechAxis Tips to Kick-start your Digital Marketing Career in Nepal
Do a comprehensive digital marketing course here at TechAxis or other certified institutes
Join a community of marketers and learn from them
Study different cases and list out dos and don'ts for future uses
Make a habit of working in a team
Make a strong persona and present yourself confidently (before clients, employers, and colleagues)
Follow the market and consumer behavior closely
Be active socially and in social media
Always be ready to lead
Digital Marketing is also proving to be a key aspect to hold an in-demand profession. As most companies have their major focus on it you can learn the skills for promotion as well. Having said all that, join us at TechAxis to learn from the experienced professionals with confirmed Digital Marketing prowess to be the best.