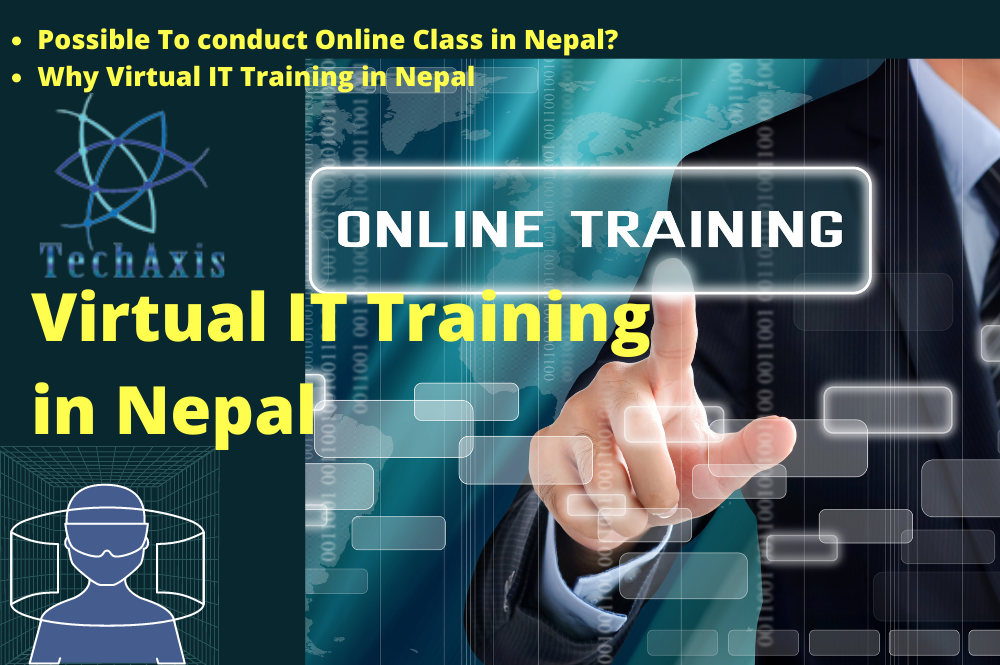 Virtual IT Training in Nepal
Internet Technology is playing a significant role in this pandemic. Various industries are using the internet as their second source of communication. And professionals are using different software, apps, and tools to ease up their daily schedule. IT industry gets more favor from this technology than other industry. Along with other IT industries, Virtual IT Training is also getting popular. As an IT student/professional, one should be able to cope with the latest trends and technology. And virtual Training is one of the best ways to do that.
Possible To conduct Online Class in Nepal?
9% of Nepali were using the internet in 2011. Guess What? Around 70-80% of the population of Nepal use the internet in 2020/2021. This figure is helping us to get control and continue our daily life efficiently and effectively, even in lockdown. Nepali Students have taken at least one online class from their respective institutions in the last year. So it is easier for IT students and IT professionals to study and work.
Professionals know what they are going to do. Do students feel great to be a part of Virtual Class? I think yes. It's more tech-friendly, productive, and helpful. IT Training can be more beneficial in the virtual class because students have time to understand and practice. Also, it's easy to figure out the weak points of student individuals to improve on that.
Why Virtual IT Training in Nepal
As we believe in learning by professionals, not by professors. We have tutors from Top IT companies in Nepal, and they are most likely to take a class in the morning/evening. Also, we believe in practical learning. We have helped 100s of students to pursue their dream careers through IT Training in Nepal.
Tutor availability
Working Professionals are too busy with their schedules. It's difficult for them to manage time to train students in standard time. Work From Home allows them to utilize their free time—also good to mentor IT, enthusiasts.
So you might think, Why working professionals? The answer is straight. Because they know the latest trends, techniques, and methods to solve a problem with technology. In the case of programming, they have mastered rapid algorithm development for specific issues. Also, they can teach practical approaches to code. After working in software development for so many years, they can quickly figure out steps to develop software. Industry experience of handling clients, their requirements, and the secret to fulfilling those requirements allow students to learn extra quickly.
So, If you plan to enroll in any IT Training course, lockdown is the best time, and Virtual Class is the best method.
More Enhanced Knowledge and Expertise
Being an IT student, it's necessary to know all aspects of technology. Virtual Classes help them to get familiar with the latest technologies.
Less Pressure from College
Colleges are closed, and they are also conducting online classes for their students. Overall pressure from college is lesser during the lockdown. So that students can utilize this favor to learn new things. Also, doing practice over the topic allows learners to use the knowledge in practicality quickly.
You can invest more time in research, practice, and projects during Virtual Class. Research shows students become more productive, research-oriented, and hardworking if they attend virtual classes.
Better infrastructure
It's not possible to describe a topic online as quickly as in physical class for the tutor. So they will be sharing more resources with students, whether it's Stack Overflow, W3Schools, Youtube, Udemy, LinkedIn, Coursera, or any other platform. They also have a great community on various social media channels. Sharing this community might be a gem to students who are learning to program.
Tutors will teach all the possible ways to make the best use of the internet to learn. It will be helpful in the future working days as well.

Conclusion
Covid or various barriers shouldn't be the reason to stop learning and enhancing knowledge. The practice of virtual Classes has just started. Being IT students/professionals, we need to cope with technology and continue learning. Also, it's good to assure the quality of learning is in favor of Students. Virtual IT Training is the opportunity to utilize the Lockdown period smartly. Learn With TechAxis to lead the rest.