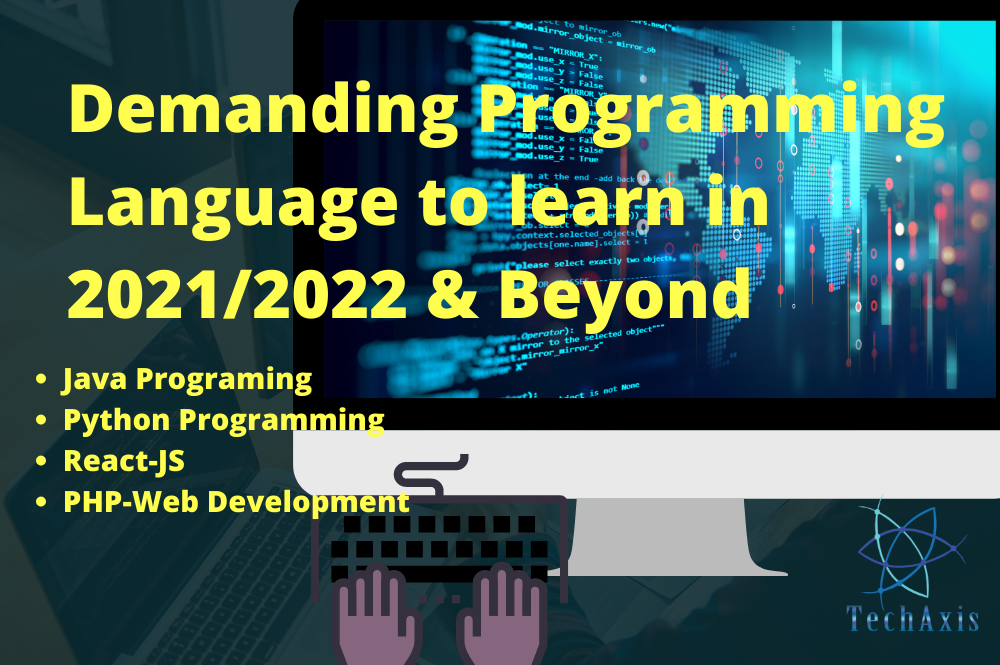 Demanding Programming Language to Learn in 2021
Programming languages requiring less effort with high productivity are always in demand. Each of these has a unique feature and usage area.
Programming has always been the best career option for people interested in solving real-life problems with technology and its best practices. The trend of system development is rising and IT companies are always looking for efficient programming languages. Few programming languages can be used easily yet effectively for quick and reliable system development.
Let's look at few programming languages that are demanding, trending, and having more scope and opportunity for 2021 and beyond.
Python Programming
Python is a general-purpose high-level programming language used mainly in software to make it capable of handling big data and interpreting the results. Demand for python programmers has been rising since a few years back because of its versatility. More than 110k jobs for python developers are listed on indeed.com. Python can be used in various sectors. Web development, software development, and data science are the mainly used areas for python programming. Other than this python can be used in Artificial intelligence and machine learning.
Python programming not only has broad usage, but also it is easier to learn. Various features of python made it famous and demanding.As seen in Google Trend, interest in python programming has started to skyrocket from 2016/16. Also, only 0.01% of job positions were matched for the keyword python in indeed.com in 2008. These statistics rise to 1% in 2020/2021. A huge change isn't it?
The trend of AI machines is increasing over the past few years and python programming can be incorporated into these machines. The Web Development and Software development sector was hugely dominated by PHP and Java respectively. But today, python is used widely in these sectors for the same AI/ML feature.
Python Programming interests have been rising excessively since 2015 in Nepal also. Lots of Python programming freaks have already got python training and opened a beautiful career in different IT companies since then.
React Programming
End-user experience and interface is the most vital factor to determine the usability of software and web these days. People have started to look after the best interface app to use in daily life. React Programming is the best tool to maximize the user interface and experience.
Also, react allows the developer to build an efficient and effective front end for the end-user.
Almost 31k job positions are listed on indeed.com for react developer. Glassdoor has more than 3 thousands job openings for react programmers only in New York City.
Back in 2015, there was 0.01% of total IT jobs was for react professionals, which was raised to 10% of total IT jobs in 2021 May.
As the use of react programming has just begun, opportunities for the entry-level developer are increasing day by day. The majority of students completing React Training at Techaxis have already found their front-end development job in various IT companies. With the rise in opportunity, trainees have also increased over the past few years.
System Development companies in Nepal started to look after react developers to design beautiful user interfaces. Google search for the term React- javascript library is at the top as compared to previous years.
PHP -Web Development Programming
Web Development is the most trending and highly demanding job for IT professionals in Nepal. Internet usage is rising rapidly and because of that businesses have started to show their portfolio online. It's always good to carry all our business information in your pocket rather than carrying all the log files in the bag.
Even small businesses in Nepal are planning to get a website for themselves. And PHP is the main programming language to be used in web development. Having PHP Training will also allow you to create appealing front-end designs using HTML, CSS, and Javascript. So knowing client-side and server-side programming will brighten up your career as a web developer.
Data in internet live stats shows that the total number of websites in the world increased by 69% in the year 2017. In 2018 there were 1.63 Billion websites which increased to 1.86 billion in 2021 June. Research shows that 576,000 new websites are being launched every day. These statistics show that a career in web development is never falling again.
With growing numbers of websites and interest in building web, the career is settled and clear for PHP Developers.
PHP Developers are capable of working as freelancers also. Jobs and opportunities for web developers are increasing day by day. Shops, and small businesses have realized the importance of being available on the internet. This also broaden the opportunity for PHP Developers
Java Programming
Java, for some people, is a language to communicate with the electronic device. Also, it is the most used programming to build websites and software. Java Developer Job is widely available in maarket.
Java has been the best programming language for so many years for its versatility, usage, and advantages to use and understand.
Java is dominating all possible areas of system development whether it's software development, mobile app development, or web development. Because of its wide usage and application area, java has the highest demand in the job market. Java programming can solve complex problems with efficient and easy programming syntax.
Because of the requirement in a different field, entry-level java jobs are also available widely in the market as compared to that for other programming
Trend shows the craze for java programming has decreased over the past few years but the opportunity has increased due to its versatility to be used in many platforms.
Conclusion
2020 was the year of lots of ups and downs. The use of technology rises rapidly because of lockdown and travel restrictions. IT students looking for a career in programming can benefit from this situation by mastering the right programming with the highest demand in 2021.
Python, Java, React, and PHP are the trending programming languages to learn in 2021. But having an interest in another language should not be affected by this figure.