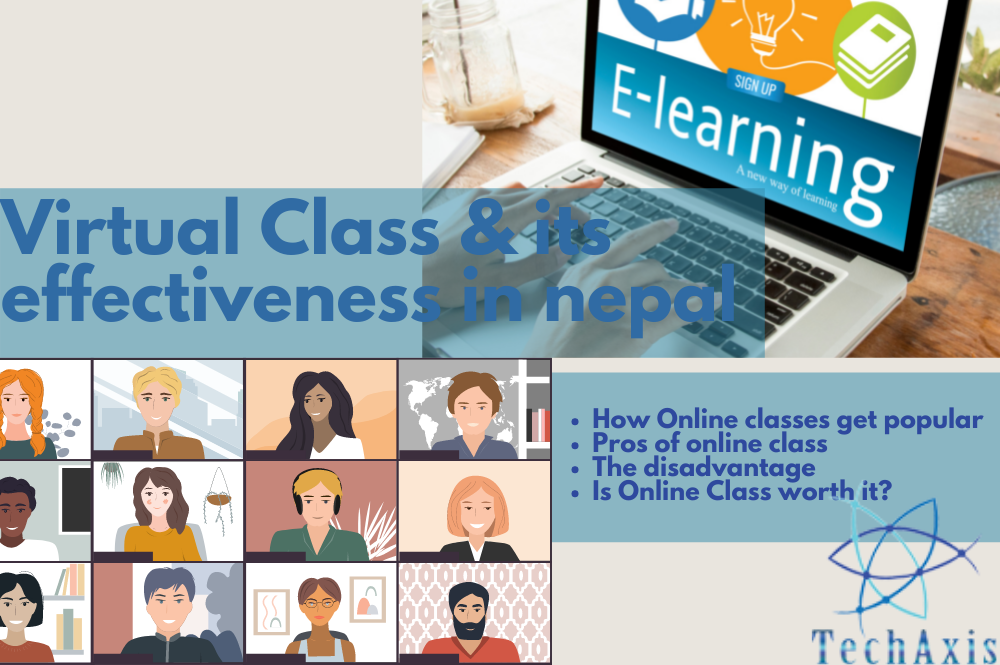 Virtual Class & its Effectiveness in Nepal
Virtual Class is the method of learning and teaching through the internet using a learning management system. You might have taken at least one virtual class in the past year. But with the rise in technology and internet usage, this is getting more popular.
A big question arises when it comes to an online class. Is the online course worth it? Does it have more advantages and minor disadvantages? Can you learn what you expected to learn with this? Let's answer these questions.
How Online Class get popular
Let's look back to the first quarter of 2020. Nobody thought meetups, classes, meetings, boot camps, and workshops would be held online. The COVID brings everything online and tech-friendly. People are using Zoom, Google Meet, WebFX to continue learning and meetings likewise before 2020.
But how virtual classes Started
The concept of the virtual class started in the late 20th century. The first university to introduce virtual classes was the University of Illinois in 1960. They recorded audio and built an intranet with computers to facilitate their students who missed the physical classes. The trend then went up. 5.5 million students attended at least one online course as of 2009. By the end of 2020, each student took at least one online class. In addition, a professional attends at least one virtual training. This is increasing, and the importance of internet learning will skyrocket in 2021.
The beginning is always difficult, time-consuming, and tricky. So was the concept of an online class. We had no option but to cope with the situation and attend virtual class. This may affect student's psychology because of not interacting directly with teachers. But this practice helped both parties to continue teaching and learning during the pandemic. Imagine how it affects them without being able to study for more than a year. The concept of virtual class has eased up the learning in the last year.
Pros of online class
Every technology has benefits and disadvantages. The online class is helping millions of students unable to attend regular one for various reasons. Also, it allows teachers to be a part of learning regardless of their location. Let's look at the advantages of online classes in the context of Nepal.
-Break Down Geographic Barriers
The first and foremost advantage of a virtual class is that we can attend our class wherever we are. Pandemic has made it difficult for people to travel. Happenings like lockdown and curfew made it difficult to participate on a physical level. All schools, colleges, universities, and institutes are closed. The only option left is to organize the online course. This allows students to continue learning. An excellent example of this advantage might be attending online classes at a foreign university. Students have a visa but unable to go there. TechAxis also offers online training on various programming languages, so if you are anywhere globally, join our exclusive online training.
-Lower Total Cost
The total cost for any class is comparatively low for an online course. Why? Because there are minor expenses of organizer for a virtual level. Another factor in lowering down the cost of an online class is that teachers are using their resources. Even in our case, we are giving discounts to various training.
-Time Effective
The overall investment of time for your class is just the duration of the course—no need for an early morning wake-up, makeup, dress-up, and travel for hours. Financial investment is not the only thing to spend on your class. There is more contribution for your course. All these time duration will limit only during the lessons. Consider excess time to utilize for practical usage of your learning.
-Makes you Safer
You have less chance to get caught by COVID. You won't be meeting peoples, shaking hands, and interacting with them for a long time. This behavior helps in staying safe with COVID.
-You can learn on your time.
Do you struggle to wake up early in the morning? Book your class at noon. This allows you to be confident while learning. In addition, better class timing helps in learning better.
-You Can Learn at your Speed
Suppose you feel uneasy about raising a hand to ask a question in class. It's easier to ask a question in the online course. Even a chat field helps you in asking unsolved queries. This way, you can learn better in an online class. Moreover, in the context of the recorded video, you can pause and start from the beginning to understand the topic clearly. Thus you can have a better learning environment in virtual classes.
As we discussed, there are also some disadvantages to learning online.
Disadvantage of Virtual Class
Students can't interact with tutors directly. And nothing in the world can make you understand a topic other than direct interaction. Besides this, there are other cons of the virtual class. Let's look at few points that are considered as disadvantage of the virtual class.
-Internet Accessibility
This is the vital element of what we are discussing today. Having a good internet connection is required to complete your training successfully. Sometimes, it even gets more costly because of using mobile data. Moreover, fluctuation of internet speed in the middle of class can hamper your study. So be prepared with a good internet connection help you to learn better effectively.
-Limited Interaction with Faculty
Based on the nature of your class, you might get limited interaction with the tutor. Because of less time and interface, the tutor gets too many questions, and it's slightly difficult to answer all of them. Still, you have your community with you to get solutions.
-Own research and organization are essential.
If you can't attend a live session, you must do your research to fulfill the topic covered. The class starts on time, so punctuality is essential. In addition, good research on the subject will make you even more precise and help you enhance your knowledge.
Is Online Class worth it?
A big question that always arises is, does it pay me off? How effective is this?
To answer it, we want you to be clear on the topic if the topic is more of the internet and technology field and doesn't require you to be physically present in the classroom. But if it needs personal interaction. For example, more network building and non-technical areas like cooking, labs, where you shall be using your hands to complete the project, require you to be physically present.
In Nepal, college, and university education, we are still in the traditional way of teaching and learning. We get stuck between our topics frequently in an online class. But paying attention always helps in learning quickly. It all depends upon your dedication to learning.
To make the online class worth, one must understand the importance of this in career building—also, a good tutor having experience in online teaching ease this process.
We had students in a virtual class for different programming languages back in April, May, and June. Every one of them has given positive feedback to our methodology, tutor, and the overall support by TechAxis throughout the period.
Let's talk about Training in TechAxis.
If you plan to learn programming and an internet connection, you won't face any problems while learning. We have tutors from the top IT companies for you and they will be teaching best industry practices. Digital learning helps you in completing your projects and learn quickly. Pandemic has hit us all, and overcoming this is essential. So, if you want to make a career in the IT sector, TechAxis will always be there to assist.
Conclusion
Virtual Class is a good option in pandemic and lockdown. We shouldn't stop learning because of a pandemic. Career is still there to chase. So, why not grab this opportunity to leave everything behind and focus on career-building training. Programming language doesn't require people to sit together and discuss before writing code. To get your dream job in the IT sector, we offer an exclusive discount of up to 30% on all our training courses. So, continue your learning in this lockdown to enhance your knowledge and chase for a better career.