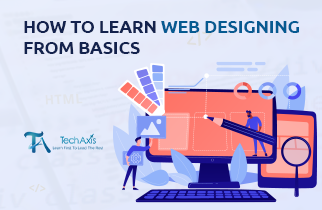 How to Learn Web Designing From Basics? - Techaxis
If you're a beginner and want an IT career in Nepal, it can be tough to figure out which IT career you should go with. There are dozens of paths in the IT industry, but web designing could be the best place to dive in if you are new to tech. Web designing is a versatile career, and it offers multiple career opportunities in IT with an impressive salary. We suggest you join an IT course in Nepal in the web design field, but if you are willing to learn web designing at home and don't want to take IT training in Nepal, then here's a guide for you.

What is Web Design?
Beginners often misunderstand the concept of web design. Web design is a combination of visual and interaction; more simply, Visual + Interacti Design.
Web design refers to website designs showcased on the internet. Website design is all about solving problems keeping in mind all aspects of a website, including the art, skills, and technology, to create an interactive and well-functioned website.
Don't get confused between web designing and web development. Web designing and development are two different things. A web developer is just the one who creates a website, while a web designer is responsible for making the website visually interactive.
What Should I Learn to Become a Web Designer?
Web designing was quite complex a few years back, but with the development of technology, web designing has become easier than ever before. It would be much easier for you to learn web designing when you know the fundamentals of web designing. Follow the following steps to become a web designer in Nepal.
1. Learn HTML Basics
HTML is at the core of every web page. So, as you enter the web designing world, the first thing you have to learn is how to code HTML. It's an essential skill for a web designer. Learning HTML basics is the fundamental foundation on which you will make your future web designs.

Either join an HTML course or learn it from YouTube, important is that you must have knowledge of what HTML is and how it works before you proceed with the next step to become a web designer. Once you can create a fully functioning, basic hand-coded page from a blank slate, you can proceed with the next step.
2. Learn CSS
Imagine a skeleton without any physical appearance. Yes, a website would look similar to that. CSS is the skin, nose, and other general physical appearance of a website. CSS is responsible for positioning the layout elements in specific areas of your website pages to make the website look interactive.
As most websites are responsive HTML5-based these days, it's impossible to create modern website design without CSS. Once you learn CSS, you can play with various elements on a website, including the color, text, background, typeface, margins, and more.
3. Learn JavaScript
Besides HTML and CSS, JavaScript is another important concept you must know to become a professional website designer. It is a tool to create advanced user interactions such as parallax effects.
Like our brain, which has been programmed to react to certain things in a certain way, a web page has to be programmed to react in a certain way whenever something happens. JavaScript allows your web page to react to the user's action. Using JavaScript, you can program actions, conditions, calculations, and instructions for your web pages.
4. Understand UI/UX Concept
The UI/UX Design is a design-centric approach to user interface and user experience design. UI/UX offers practical, skill-based instruction that revolves around a visual communications perspective.
UX and UI are often used interchangeably, but these two terms actually mean very different.
UI (User Interface) is the web layout design of an application. UI designers design the look of an application and make sure the interface is attractive, visually stimulating, and match the application's purpose.
Meanwhile, UX (User Experience) determines how users interact with the web page or application. They find out if the user experience is smooth and intuitive and if not. User experience is determined by how easy or difficult it is to interact with the user interface created by the UI designers.
Because UX designers are concerned with the user interface of an application as well, people get confused between UI and UX.
How to Practice Web Designing?
When you're starting in web design, you need a lot of practice and have to develop and improve your website design skills before you take on real-world projects. Below are a few ways you can practice and improve your web designing skills.
1. Create Non-Profit Web Design Projects

It's better you offer web designing services to individuals for free at the initial stage of your web designing career. Doing free projects will help you make responsive web designs more efficiently.
There are non-profit organizations in Nepal that understand the importance of a website and are looking for volunteers. You can create charity board websites for such organizations to improve your website designing skills. When you have some decent samples of your web designing work in your portfolio, you have a good chance of getting hired.
2. Make Your Own Website
Even though you have just started learning website design, you will need a portfolio to showcase your website designing skills while applying for a web designing job in Nepal. And there is nothing more worth than your own website to showcase your portfolio.
A strong portfolio will help your potential employers to examine your skills and passion for web designing. Try making websites for factious companies to make a high-value portfolio. We recommend you include at least 6 solid websites in your portfolio so that your potential employer can get a good idea of your web designing skills.
3. Critique Others Website Designs
You might not be qualified to critique other people's website designs, but still, you can have a positive impact on someone else's web designs and personally take benefits from doing it.
You may not have the best web design practices, but having a fresh perspective, you can review one's website from the perspective of a non-web designer. It gives less biased feedback from the point of view of a traditional viewer.
You can find people looking for feedback about their website on social media sites such as Reddit. Go through their website and give your web design critiques.
4. Watch Professional Web Designers on YouTube
Watching web design videos from professional web designers on YouTube is another great way to practice and improve your web designing skills. YouTube videos are a great way to learn web design visually if you really are a non-reader. Follow the instruction given to those web designers and practice web designing every day to become a pro like them in the future. You can find everything you will need to learn web design on YouTube, including lectures, lessons, and material.
5. Learn From a Web Design Mentor
No matter if you're self-taught or learned web designing online, learning from a web design mentor will definitely help you grow. Find web design experts who are active in the field and learn from web designing from them. They will teach you how to ignore the noise and keep up with important trends.
6. Join Web Design Course in Nepal
Yes, you can learn web designing at home, but taking web designing courses can improve your web design skills way earlier. The web design course is the most popular IT course in Nepal. Every year, hundreds of students join web designing courses in Nepal, ending up getting highly paid job placements in the IT sector.
Web designer salary in Nepal ranges from NPR 30,000 to NPR 100,000 NPR (highest) per month, depending on the skills and experience of a web designer.
You can join any IT course in Nepal, including the web designing course, at TechAxis. TechAxis is one of the best IT training institutes to provide IT Courses in Nepal. Connect with TechAxis for the best IT training in Nepal.