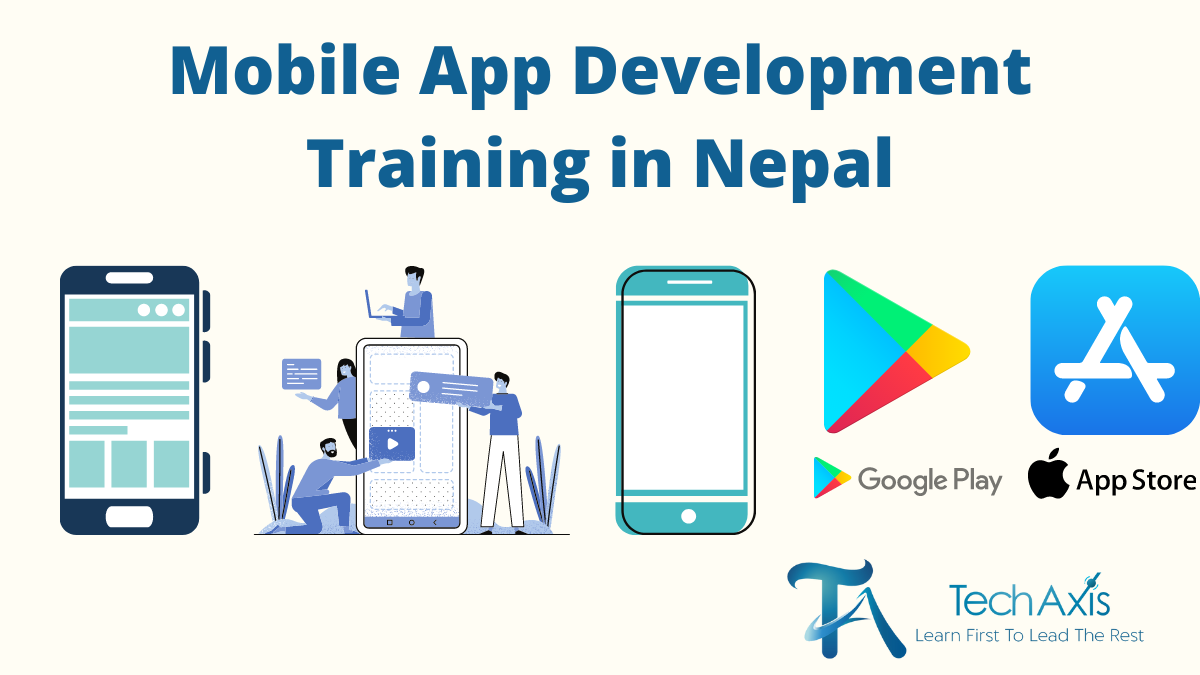 3 Mobile App Development Trainings in Nepal
Majority of Nepalese people use smartphones daily. And to reach out to them, building a mobile app for business is a great idea. Unlike websites, mobile apps can be used to deliver amazing promos, offers, updates, and features to the targeted audience directly. Mobile App Developers can build amazing user interfaces and user experience systems to engage audiences and convert them to high-value customers.
Mobile App Development is the most trending job option in Nepal for IT professionals. Many Businesses have started to build mobile apps to operate the task daily. So, the career in mobile app development is increasing daily in a good ratio.
Working as a freelance mobile app developer is still a good idea for developers. Working for local as well as clients from abroad is possible through different mediums and you can customize the price for customized mobile applications.
To become a mobile app developer, you first need to learn mobile app development skills. One of the good ways to become a mobile app developer is to learn by yourself using different online academies. Youtube, Google Learning, StackOverflow, GitHub are free learning platforms. Udemy, Coursera, LinkedIn Learning, Google Academy are the paid training platforms.
Above all of these, getting live training at TechAxis by a Mobile app development expert is the best option to go after. Because we have industry experts with hands-on experience in many projects, they can teach more effectively and efficiently.
So, What are the best mobile app development training in Nepal? Let's dive in.
No doubt, flutter is the most trending application software development tool developed by Google. Flutter is a UI development toolkit that was launched back in 2017 by Google as an open-source framework. Flutter can be used to design and develop mobile apps, web apps, desktop/pc software. By the usage, flutter can be used as a full-stack application development tool. So, Flutter is an all-rounder, easy, and rapid application development tool.
In the Flutter Training, you will learn the introduction of Flutter with its architecture at the first phase. Flutter IDE setup Android Studio will also be learned in the initial phase of the Training. Different aspects of mobile app developments are programming, designing layouts, touch response, widgets, APIs, image and video responses. All of them will be completed in the training,
We will help you to master Flutter to get a mobile app development job in Nepal. TechAxis will also help you in placement and finding the right job. We have our own recruitment partner JobAxle to help our students find the appropriate jobs in the IT industry. Alongside this support, we will give you a final project that helps you to showcase your talent while giving interviews.
So you might be wondering why Flutter Training? Flutter, Because it is a cross-platform mobile app development tool. You don't need to write another code to design and develop the same application to run in another environment i.e. iOS or web or pc. Another reason to choose flutter is, it's free and open source.
Android App Development is the trending job option for aspiring IT professionals in Nepal. With Android App Development tools and skills, you can design and develop a fully functional Android Application.
App Development is trending in businesses and IT professionals with skills are doing good in terms of projects and earnings.
Android Training will teach you how to design and develop mobile applications and how to deploy them on the android platform. Also, you will learn various ways to make money out of your android app development skills.
During the Android App Development Training, you will get knowledge on the architecture and stack of the Android Platform. Android UI, Multithreading, Android Machine, Data Storage, and other vital parts of Android Phone will also be taught during the training.
Android App Development Training will let you know how to connect with different parts of a mobile phone and use them accordingly in your app.
iOS App is an amazing way to engage with targeted audiences through iPhones. Also, iOS apps are highly trending as the number of people using iPhones is increasing. So, there's a promising career for iOS developers in Nepal and abroad as well.
iOS development training will let you understand the structure of an iOS phone and its different hardware and software parts as well. Alongside this, we will teach you to step by step guide to design and develop an iOS application. Swift programming is used widely to develop iOS applications. So, swift programming will be taught to make you familiar with programming and development.
And following that, you will learn the UI of the iPhone, machine, storage, location, and other parts of the iPhone.
iOS application development training will teach you to design a fully functional iOS application and upload it to the app store.
To conclude
Mobile Application Development is an amazing career option for IT aspirants in Nepal. Training and mentorship always help IT, students/professionals, to become what they are willing to be. TechAxis has several mobile app development training. Choose the one according to your preference and make your dream career.
Contact us at any time to place your questions and queries. We will be happy to assist you to achieve your dream career