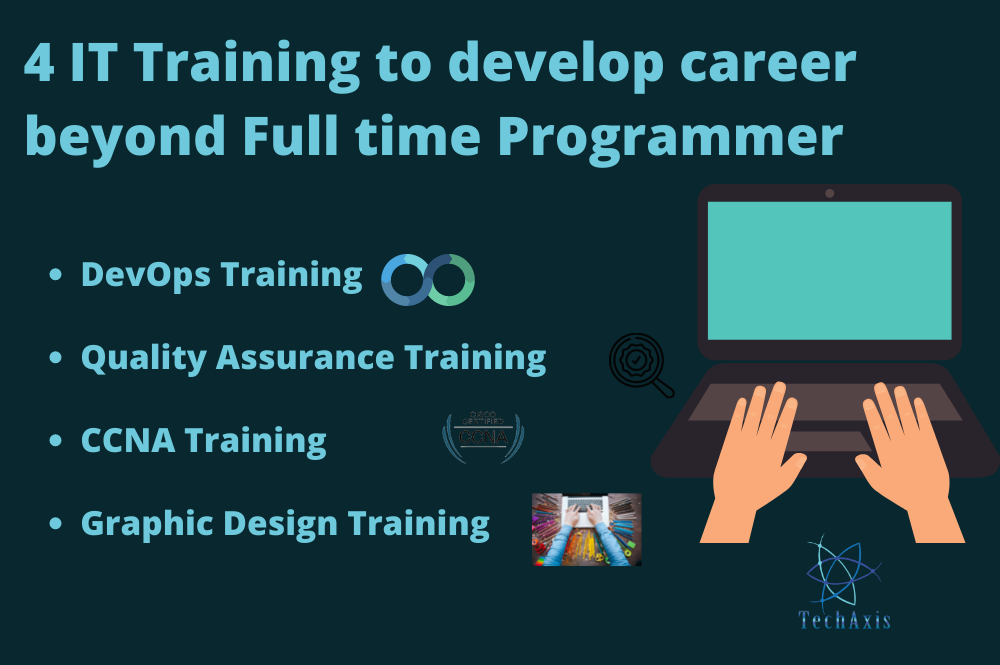 4 IT Training to develop career beyond Full time Programmer
An Introduction to the Topic
IT Training is not only about learning coding and designing, there are more scopes in other IT domains. TechAxis offers various IT Training that helps you to make a career beyond being a programmer.
Whenever we plan to make a career in the IT industry, the first thing that comes to our mind is Programmer, Developer, or Designer. But, other essential parts in Software Development are trending and professionals working on these domains are getting paid well. So, let's look at 4 training offered by TechAxis that make you capable of working in a better position than a programmer.
DevOps is the most trending and important unit of Software development and Software lifecycle. The main task of DevOps Engineers is to integrate the development team and operation team. The DevOps Team plays an important role in maximizing the performance of Software Applications. Tasks completed by the development team might take longer to implement by the operation team without DevOps. To speed up the process of implementation and adding new features to the system, DevOps is necessary.
To learn DevOps, you need to have a basic understanding of software development, programming, oop, and how software is operated. Even though you will learn it all in the training, you need to do your homework to learn all these things to speed up and ease the learning process.
During the DevOps Training, you will learn the basics of the Linux Operating system in the beginning. Server maintenance and Server technology for software development will also be taught in the training. Servers include Database Servers like MySQL, Apache, PHP. This allows you to manipulate data in the system. And what is happening in the operation and development team?
Cloud and Cloud maintenance is also one of the important things in DevOps. We will teach you how to use AWS (Amazon Web Services) to integrate the development team and the operation team.
Quality Assurance is the process of ensuring the developed Software application is bugs-free, defects-free, and ready to use. QA Engineers continuously test the application to make sure it meets all the requirements, objectives and features that are proposed by the client.
To become a QA Engineer, or to learn QA, you need to have basic programming & software development knowledge. To speed up the learning process, you need to broaden the thought process that helps you to perfectly find out the bugs and errors in the system. QA is not programming and doesn't have any theory, it's all about testing, and verifying the system usability. So, you need to think beyond the developers and think like bounty hunters to get the best result.
Quality Assurance Training is believed to have two types. Manual Testing Training, and QA Automation Training
Manual Testing
The manual Testing process is to find out whether the software meets all its objectives or not.
During the training, you will learn about Manual Testing, White Box, Black Box Testing. Regression Testing, Smoke Testing, Integration Testing, User acceptance testing, Functional, And non- function testing are also important in this type of testing.
Manual Testing is done by a QA Engineer himself/herself. It's a lengthy process and consumes more time, so QA automation comes into practice.
QA Automation
QA Automation is the practice of testing the software using a script that continuously checks the usability of software using specific tools like Selenium. During Automation Training, you will learn to use different tools that speed up the Quality Assurance process.
Also, you will be taught to develop a script that continuously checks the software feature even in your absence.
You will get a chance to test software at the end of the training along with documentation of plan, execution, and report.
After Quality Assurance Training, you can hunt for job positions like QA Engineers, QA Automation Specialist, and many more!
CCNA Training is designed to guide trainees to receive and pass the certification test by CISCO. TechAxis makes sure that you will pass the CCNA examination to become Cisco certified network associate.
During the training, you will learn about Routing, Switching, IP Address, and many more LAN-related terms and their best practices on both industry and home usage.
In the advanced training, you will get to learn about protocols, TCP/IP layer, load balancing, and some practical experience from the tutor. Also, you will learn how to crack the CISCO examination. But, passing CCNA is not enough to get a job. You need to be sure that you are learning the right approach to networking.
Hands-on experience with routers, switches, and LAN will be taught. Also, how big companies like banks, ISPs maintain their network will be shared to make you up to date with the latest trends and techniques
If you are creative and have a keen interest in ART, then Graphic Designing is the domain you need to choose. Also, if you can think about what people love, what people want to see in an image or video, then again GRaphic designing is the career you need to think of.
Graphic Design is not only about tools and steps, It's about how creatively you represent the theme in the image. You need to be good enough to recognize what your audiences are willing to react to the product/service they are interested in.
Graphic Design Training will let you become a graphic designer, UI designer, UX designer, and even front-end designer if you have that ability. You need to work on what people love before using any tools.
You will learn to use all the features of Adobe Photoshop & Adobe Illustrator. The tutor will also guide you to design logos, templates, Visiting cards, Banner, Infographics, Brochures, and many more graphic kinds of things.
After completing the training, you might get a great enrollment in Companies as a graphic designer.
To Sum Up
If programming, development is not your cup of tea, these are the best training to make your career in the IT industry. With the listed training course, you can pursue your career in the Software & IT industry as a top-level professional. After this training, you won't be doing programming and development stuff. But, you can tell them to program as per the plan.
If you have any queries about any of these training, visit TechAxis or Call us to clear up the concern.