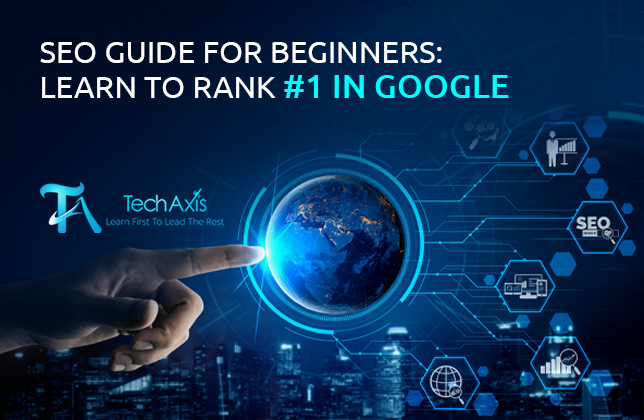 SEO Guide for Beginners: Learn to Rank #1 in Google
The history of SEO (Search Engine Optimization) dates back to the 90s when it emerged for the first time, and nowadays SEO has become an essential marketing strategy to take to grow a business online. At its core, the meaning of SEO is to increase the visibility of your website in the organic search results in search engines.

SEO is a fast-paced field and search engine technology is evolving with every passing day. That's why it's crucial to stay well-informed and learn continuously. It may become frustrating when you rely on outdated tactics that no longer work. Find out what you can do to make sure that Google can find your website easily. With the goal to keep you well-informed about SEO, we have created this ultimate SEO Guide for Beginners. By the end of this blog, you will definitely be going to learn how to rank #1 on Google.
What is SEO and How Does It Work?
Search engine optimization(SEO), is the technique of obtaining traffic via unpaid, editorial, organic, or natural search results in search engines. It seeks to raise the position of your website on Search Engine Result Pages (SERP). Keep in mind that the more individuals will view a website the higher it appears on the list. They use search engines when someone has a question and wants to look up the answer online.
Search engine algorithms are computer programs that sift through data to provide users with the precise desired results. To identify websites and choose which ones to rank for a particular keyword, search engines use algorithms. To find information, search engines go through three stages: crawling, indexing, and ranking. Crawling is the discovery stage; indexing is the filing stage, and ranking is the retrieval stage.
Why is SEO Important?
Search Engine Optimization (SEO) makes your website more visible on search engine result pages and increases organic (unpaid) traffic. SEO is crucial in today's world since it promotes website growth by enhancing content and keyword density. Below are mentioned the top 4 reasons why SEO is important.
Ranking and Visibility
The ranking of your web pages or website in search engine results rises as more people visit your content or websites. A web page's visibility closely relates to its ranking.
Increase web traffic
Your organic search engine traffic will improve due to SEO, which will result in more daily visitors to your page. It makes sure that the website appears prominently in search engine results, which aids in keeping the website competitive.
Trustworthy
Any businesses need to gain the trust of its customers, above all other things. The user tends to defer to the recommendations that the search engine generates, so obtaining a higher ranking for the user's search terms will confirm their perception of your service or product as trustworthy.
User Experience
User experience has been the number one priority of every marketer. Everyone wants their website to rank no. 1 on Google. Search engines are able to get the data they require to pass on to users with ease when the site is built with the user's experience in mind. It's likely that search engines have trouble navigating your website if users have trouble doing so.
Six Easy Steps to Get Started Learning SEO
Even though search engine optimization (SEO) isn't a simple subject, getting started doesn't have to be difficult or expensive. If you don't use the right SEO tactics, it will be impossible to achieve the top ranking on Google. Due to improper SEO techniques, many businesses have struggled to rank on Google. So, where should you start? Well, you can follow the following steps to rank #1 on Google.
Understand the purpose of SEO
When users use a search engine to find information online, they enter their search terms in the search box. Search engines have bots or spiders that crawl through the internet to find, index, and rank sites. When someone searches for something on a search engine, the search engine delivers the list of websites with relevant content and related keywords, you entered.
Your first item of business should be to make sure search engines can reach your websites. Use Google's URL Inspection Tool to request that they index your URL.
Keyword Research
Keywords are the essential parts of SEO. If you want to rank your content in a search result or if you want people to see your website at the top you need to find relevant keywords, and figure out the users' intentions while using those terms.
There are two types of keywords: long tail and short tail keywords where long tail keywords span three or more words and short tail keywords have one or two words.
If you are starting SEO for your website, you need to focus your keyword research on long-tail keywords because it has less competition than short-tail keywords, which makes ranking your content easier.
Know the difference between on-page and off-page SEO
SEO happens in two places: on-page and off-page. On-page SEO refers to SEO elements and methods aimed at enhancing elements of your website that are within your control. Off-page SEO refers to SEO elements and techniques intended to advertise your website or brand online.
Formatting title, keyword usage, navigation, URLs, meta descriptions, and image descriptions or alt text are all components of on-page SEO. Whereas, Off-page SEO entails activities like link building, boosting link popularity, search engine optimization, link trading, etc.
To achieve Search Engine Optimization, which is our major objective, both SEO complement one another. However, SEO experts advise prioritizing on-page SEO over off-page SEO throughout the entire process.
Learn to identify UX signals
UX stands for User Experience, They are the Internet's way of telling you whether or not your users are satisfied with your content. Google uses UX signals, or behavioral patterns, to influence how well your pages rank. The most important user experience(UX)signals are the bounce rate and click-through rate(CTR).
Bounce rate is the number of users that only stay on one page of a certain website before leaving. A higher bounce rate indicates that your homepage is uninteresting or unwelcoming. Whereas, click-through rate(CTR) is the percentage of visitors who click on your link in search engine results. Its purpose is to measure the ratio of clicks to the impression of your result. High CTR equals a high ranking on google's search engine result page(SERP).
As you learn SEO, pay attention to UX indications to improve your rankings.
Adopt the creation of SEO-friendly content
To draw in the target audience, your website uses a wide range of content types, including blog posts, newsletters, videos, and so on. Perform keyword research while producing high-quality content, and then create content that satisfies the user's needs. Make sure your viewers can read the stuff you've written.
Google will give your website a higher ranking if visitors browse it for a longer period of time. Always produce in-depth, lengthy, and captivating content to enhance user attention.
Search engines punish results that just use words from other websites and demand new, original content.
Link building
Getting backlinks from other websites is one of the important ranking factors. More backlink increases brand visibility, domain authority, and referral traffic, which means the page is valuable and trustworthy and helps search ranking get higher.
Constantly promoting content on social media and guest posts are essential techniques that could help in building links.
The Ultimate List of the Best Free SEO Tools
Who said that getting more traffic requires spending money? There are tons of free SEO tools that can help you drive more traffic. We've taken care to choose a solid blend of SEO tools that assist with all elements of search engine optimization and have both totally free and freemium platforms included.
Google Analytics
Google Search Console
Beam Us Up
Screaming Frog
Keyword Planner
Answer the Public
Ubersuggest
Backlink Checker
Link Explorer
Mobile-Friendly Test
SEMrush
MozBar
Tag Manager
BuzzSumo
SimilarWeb
GTmetrix
Cloudflare
Yoast SEO
We hope this blog was helpful for you. If you want to learn SEO in Nepal but don't have an idea where to join an SEO course in Nepal then TechAxis could be the best option for you. With highly-skilled SEO experts, TechAxis offer the best SEO training in Nepal.