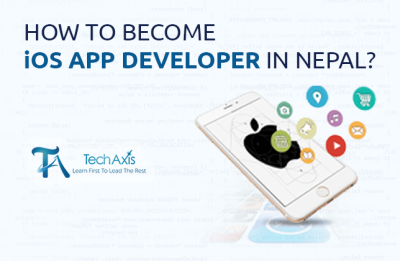 How to Become iOS App Developer in Nepal
As the mobile market is exploding, iOS developers are in high demand. The shortage of iOS app developers is driving the iOS developer salary in Nepal higher and higher, even for entry-level positions. Developers with the necessary knowledge of programming languages can create apps to make everyone's lives more productive.

But how to become an iOS app developer in Nepal? Well, to become a great iOS Developer in Nepal one needs a firm grasp of skills and competency in conceptualization, market research, basic design, and coding.
If you are among those who want to break into a career in iOS development in Nepal, then take a long breath because this article is going to guide you on how you can to become an iOS developer in Nepal.
What Does an iOS Developer Do?
An iOS developer builds, customizes, tests, and refines applications for Apple's iOS devices operating system. An iOS app developer must have a strong understanding of iOS and how it works in different Apple devices including iPhone, iPad, Apple TV and Apple Watch. In short, an iOS developer with combined technical expertise in a range of soft skills is responsible to build and customize apps in the iOS ecosystem.
Why Choose Career in iOS App Development?
Smartphones and mobile apps are in ever-growing demand and no wonder why businesses are gravitating towards app development for iOS. So, Is iOS app development really the best career choice? Below are mentioned benefits of ios app development.
Earning Potential
There are a number of factors that affects one's decision to choose a career path. Certainly, salary is one of the top factors to be considered. When it comes to earning potential, iOS app developers rank among the highest-paid IT professionals. The average salary of iOS developers is $114,614, nationwide. Moreover, by providing iOS app development service in Nepal, enterprises can reap maximum returns on their investments.
Optimal User Experience
According to the statistics, 56% of the users uninstall the apps within the first week of installation. It is because of the bad experience. But as iOS apps are based on the stainless of software function, this doesn't happen with the iOS apps. Unlike other operating systems, iOS functions smoothly on all devices.
Cost-Effective and Faster Development
As compared to Android, iOS is faster, inexpensive and easier to develop. This is because of Apple's powerful programming languages, Objective-C and Swift, which are used to develop iOS applications. It is now proven that iOS apps take 30% to 40% less time to develop than Android apps. Rather than being coded in a sluggish programming language like Java, why not choose the quicker and cost-effective way to develop apps.
Strong Brand Value
Apple is one of the most trusted brands around the globe and without a doubt, anything related to it would be trusted too. iPhone users know the apps are thoroughly tested by Apple before being considered for downloading. The brand value of Apple is what drives more customers to trust iOs apps.
Unmatched Security
For the past few years, Android apps have been leading when it comes to the number of users, as compared to iOS. However, being open-source, there is a high chance that Android encounters viruses that can be harmful to their devices. Meanwhile, iOS practically doesn't have loopholes for viruses and malicious hacking software. iOS apps undergo a vetting process which allows users to get perfectly safe apps.
How to Become iOS Developer in Nepal?
Becoming an iOS developer in Nepal starts with gaining some straightforward skills, including market research, basic design, and coding, and of course, a dedicated study. Below are mentioned important tips that you can follow to become an iOS app Developer in Nepal.
Learn iOS Development Fundamentals
iOS Development becomes more complex when you don't know the fundamentals of iOS development. You must have a clear sense of what exactly iOS development is. iOS development is an area of speciality. If you've been in the app development field for a while and know basic fundamentals of iOS development, you can skip this. But if you are app development is something new for you, you must understand how iOS development works. You can learn these fundamentals by taking a basic development course or discussing them with iOS Developers.
Learn Key Programming Languages
While starting out iOS development in Nepal, you must have knowledge of primary iOS programming languages Swift and Objective-C, and the integrated development environment, Xcode. Once you have a firm grasp of these programming languages, you are ready to jump into the iOS development world and expand your skill set. You can learn these key programming languages virtually limitlessly.
Create Own Projects to Develop iOS Development Skills
Now that you've know all the basics to develop iOS apps, you can start building your own projects. This is something of a learn-as-you-go activity. Don't wait until you've mastered iOS development, if you do so, you'll never actually start. Follow a set of instructions and build a practice app. This will help you figure out what to do and oversee the app's assembly, and conceptualization process, market research, and compliance.
Build an iOS Development Portfolio
An iOS development portfolio is something you can begin right away. It will help you to showcase your work. You can even include projects that you made as part of your coursework in your portfolio. As you gain more experience, you will definitely limit your portfolio to your very best work – but as a beginner, rather than focusing on perfectly polished iOS apps, you can highlight the types of tasks you can perform.
Enroll in iOS Developer Course in Nepal
Grasping technical skills to become an iOS Developer in Nepal may be relatively straightforward to acquire, but there's a steep learning curve even for those who are from web development or computer science background.iOS development instruction takes place within a structured curriculum to learn all the essentials for iOS app development in Nepal. This is where the iOS developer course comes into the picture. As we are talking about taking an iOS course in Nepal, you may wonder where to take iOS training in Nepal. Well, considering Tech Axis could be a life-changing decision for you if you are really looking forward to a great future as an iOS developer in Nepal.
At Tech Axis, students begin with learning programming fundamentals with Swift, including types, objects, functions, and control flow. They then can build iOS applications on their own, using Swift libraries to add functionality. Join Tech Axis now and start your iOS development journey now.