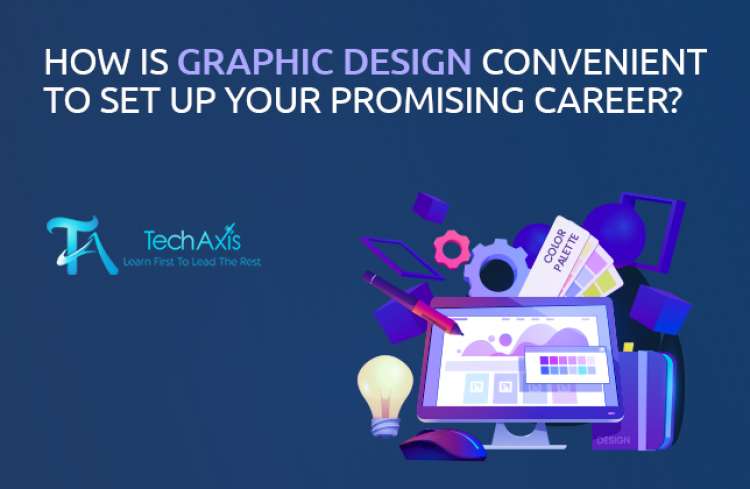 How is graphic design convenient to set up your promising career
Before the revolution in technology, artists had the option to show their creativity on a piece of paper using a paintbrush and colors. Now the scenario has changed, as it is the time of the digital world today. Today, artists use modern computers with well-equipped programs to show their creativity in producing art to convey different messages.

So, what is graphic designing? Graphics design is the skill where an artist creates a visual message to provide meaningful information. Every art in the graphics design contains unique information that represents the message that the project is looking to give to the audience. Graphics design is the base for interacting with the audience.
Graphics design is a creative process where a designer works with elements like texts, pictures, and images to create attractive designs. It may sound easy. Believe me, it is not as simple as that. Creating design is not the only idea behind graphics design. Your design must provide the project or brand concept in a unique way and it must impress the thoughts of the audience regarding the image of the brand.
The work of the graphic designer requires continuous creativity. You are required to think differently for each project whether you are working for billboards, newspapers, magazines, web magazines, websites, or brand concepts. The graphics design work varies based on the field of work and the designers may develop the skills for specific areas; however, their common roles include editing photos and texts, logo development, and layout design.
Why is graphics design a promising career?
Do you enjoy designing with creativity? If yes, how about making it a career? Sounds really good right? Graphic design is a good career option for creative thinkers. However, only having an interest is not enough, you should be really passionate about it.
The world is very competitive today; therefore, marketing plays a key role in the success of any business. Many companies are very attentive when choosing the best marketing strategies and graphics design has established itself as one of the best marketing tools for adding value to the brand. As most companies are giving importance to digital marketing, the demands of graphic designers have also heightened providing you with many career opportunities.
One thing is undeniable: the need for graphic designers will not end anytime sooner in this digital world. With the proper skills and experience, your graphic designer career is there to stay for a long period.
Today, visual communication has been more efficient and effective than ever, so good graphic designers are highly appreciated. It looks like the importance and demands of graphic designers will grow more in the future as the world is only going to submerge in the visual interplay.
For creative thinkers, there is nothing more fulfilling than being able to show your creativity. If you enjoy showing your innovative ideas, then the graphic design career path not only satisfies your inner subconsciousness; but also pays you well. The monster data reports that good-skilled and experienced graphic designers earn up to $ 38 per hour. There are very few other promising careers where you get paid handsomely and get an opportunity to show off your creative skills and thinking.
If you are one of those who do not like to travel on a day-to-day basis for work, then a graphic design career path can be very gratifying for you. Having a quality laptop and good graphic design software is all you need to work from home. You can enjoy working from your nearby coffeehouse with a sip of coffee or work chilling in nearby parks, it does not matter. All you need to do is make sure that your clients are happy with your performance.
As you move forward with your graphic designer career, you also have an option to work as a freelancer. Many companies hire freelancers and provide freedom to show their creativity in designs. It means as a freelancer, you can work as your own boss in the graphic design career path.
The other interesting fact is that you will never feel monotonous in your graphic designer career. You are provided with so many ways to explore your creativity. The satisfaction of being able to develop new and unique ideas for designing exciting projects never makes you bored.
So, where will you be working as a graphic designer? There are many industries to select from. You can develop your career in private companies as well as government organizations, everybody is looking for graphic designers to represent their image.
On the other hand, the skill that you learn as a graphic designer is not only limited to working as a graphic designer only. These skills are very useful if you transform your career to relevant sectors such as web development or multimedia animation.
Complete job satisfaction is what makes a graphic designer's career so appealing. However, you will require good skills to be successful as a graphic designer. Continue reading to find out the skills required to develop a promising career in graphic design.
What are the skills required for graphics design?
To be a graphic designer, the requirements of skills are high. We have categorized graphic design skills into two categories - technical skills and non-technical skills. Let's go through some of the skills that are a must for graphic designer jobs.
Technical skills
Photoshop skill
We recommend you go through some of the posts of graphic design job vacancies. Do not be surprised if you find "Photoshop skills" as one of the common graphic designer requirements. One of the common tasks that a graphic designer does is edit the photo. So, make sure that you are perfect in it if you want to see yourself doing well in graphic design jobs.
Typography skill
As a graphic designer, the eye-catching output of work is crucial. This is where typography skill plays a role. Typography means arranging the words and letters in such a way that they are visually attractive and meaningful. As a graphic designer, it is important to understand typography comprehensively so that you know which type, size, and design of the fonts are perfect for a particular project. With the use of proper typography skills, the audience can understand the sentiment or emotions behind the words.
Design Principles
The principles of design include the elements - of contrast, balance, repetition, alignment, and hierarchy. Good designers combine these elements to produce well-structured and attractive designs.
Non-technical skills
Creativity
Without a doubt, "creativity" pops out first in our minds when we think about graphics design. Creativity is involved in every step of design from developing the best idea for deciding the structure of designs to producing the design that communicates with the audience in the best possible way.
Collaboration skills
In the world of graphics design, your unique creation must be able to differentiate your client from its competitors. The art should produce a lasting memory for your clients and provide competitive benefits. You need to make regular interactions with the clients regarding the progress of your project to ensure that their expectations are met. Research regarding the target audience is also very important as it helps in understanding their perspective.
Communication
Graphic design is all about expressing your creative ideas. Communication skill is important to discuss your ideas and opinions with your colleagues as well as clients.
Benefits of acquiring graphic design course
The most looked-after benefit of graphic designing is that you can apply to work in various sectors such as print media, advertising companies, corporate communications, packaging designs, web designing, etc. The demand is constantly growing, and it is a good opportunity for you to connect to the world of design.
We have learned that "Graphics design" is all about creative and technical skills. So, we can see many of the graphic designers are autodidact. So, it is not compulsory to go through formal education to be a graphic designer. However, it does not mean that there is no use in taking a graphic design course. There are many benefits of graphic designing courses if you are looking to take your graphic design career to the top level. With the course, you will learn the technical skills as well as non-technical skills required for becoming a graphic designer.
The competition is high for getting graphic designer jobs. Hence, the other important benefit of a graphic design course is that it provides you with the base for starting your career. The degree is a vital plus point for you when facing an interview for a graphic designer.
How do you tell an employer that you have the required skills to work as a graphic designer? The certificate after completing the course is the statement that you have all the skills and knowledge to start the work. The certification is a great help to ensure the potential employer that you have the exact skill that can satisfy their expectation.
Let's illustrate it from the employer's perspective. Suppose you identify two of the best candidates for the post of graphic designer in your company. Both of them have similar skills and knowledge, so you are finding it difficult to decide to recruit. Now, it is obvious that you will compare for other qualifications and you are most likely to hire the one with a certificate of the course.
How is graphic design used in digital marketing?
Graphic design plays an important role in digital marketing strategy. Every company loves to set the first impression on their customers. When people look for your brands on the internet, the first impression is made by the elements like the design of your website, logo, and way of converting messages to them. Graphics design is used to develop those elements in your websites and logo.
Moreover, digital marketing uses graphic design to set the brand image of the company in the mind of the potential customer. Let's illustrate it to make it clearer, the logo of a particular brand is created by graphic design, digital marketing uses it to represent the brand in the advertisement and the meaningful design of the logo creates unique infatuation.
How important is graphic design in digital marketing?
Being the owner of the establishment, you will surely want that your brand has a unique identity. Graphic design is the tool that makes your brand look different from others. It shows the importance of graphic design in marketing.
It is a well-known fact that visual communication is more powerful and long lasting-than verbal communication. Graphics are one of the most useful elements of digital marketing. Now, you can imagine the importance of graphic design when combined with digital marketing. It makes digital marketing more effective creating a long-lasting impression.
We know that the most important aspect of marketing is to inform the customers or potential customers regarding the value of your product or service. Graphic design is a medium to shape your marketing agenda in an imposing way. The efficient use of colors, texts, shapes, and images helps in touching people's emotions and creating brand awareness.
Conclusion
Today the internet has become an important aspect for many. Let's say you are just going through your browser and you see some attractive images and texts, it will surely make you want to click on them to explore more. This explains all about the role of graphic design in digital marketing.
Recently, we have seen a huge rise in the digital marketing trend in Nepal establishing big scopes for graphic design professionals. So, if you are passionate about graphic design and looking for the best place to learn more, then TechAxis is the golden gate for entering the world of graphic design.
TechAxis is a leading institute to offer graphic design courses in Nepal. Learn graphics design for digital marketing with TechAxis and open the gateway for a promising career in the digital marketing world.