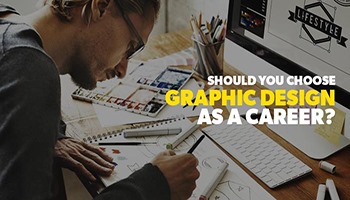 Graphic Designing Career and Scope in Nepal
Before the dawn of modern graphic designers, the pre-modern artists were limited to paint, brush and an empty sheet of paper to fabricate an eye-catching art. As the information revolution took off at an unprecedented rate, the day to day activities of people quickly evolved, with it the career and roles of people changed.
These days, modern artists are equipped with arsenals consisting of powerful computers and a digital pen. Using these tools, graphic designers are producing some of the most awe-inspiring and the arts which were never imagined before. The introduction of 3D software and the many image processing tools are aiding artists to produce mind-bending arts.
The current status of the graphic designing career expects one to have an unbreakable will and passion. The artistry and demand from the clients advance with the trends. You have to update your skills and perception and keep up with modern trends. The trends such as mobile-first design, material design from Google, etc are the most prevalent design trends of this decade. As of 2020, In the web design field, a new form of skew-morphism design - the neophormism is taking off.
Table of content
- Introduction
- Role
- How to get into Graphic Designing
- Application areas of Graphic Design
- Tools
- Future of Graphic Design
- Scope in Nepal
Introduction
Graphic design is a job for modern artists. They are involved in designing the art for advertisements, events, social media, company brochures, logo, web design, et cetera. To become an excellent Graphic Designer, one has to study the various color combinations, typography systems, graphic design tools, etc.When designing a graphic you do not make it for the sake of making it look pretty. It is a discipline, culture, and life.In the real-world, Graphic designers take consideration of the brand values and beliefs to draw a genuine representation of their business to the consumers. This means creating strong brand recognition by creating consistent and alluring graphic designs.
Roles
Graphic designers are responsible for creating the visual representation of what a company stands for. They are the ones who make sure that a company's core values match with the pictorial display as well. In this age of Information Technology where information travels with a blink of an eye, it is essential for companies to maintain quality in design too.
To produce a high-quality design, a graphic designer has to detail-oriented and creative. The designers work closely with the clients. They have various roles and responsibilities, as listed below:
- Collect materials, and information to prepare the work to be accomplished
- Prepare a plan out of the collected materials and information
- Consult with the client about the requirement, features, deadline, etc
- Draft the initial concept, layout, and outlay.
- Complete the project by coordinating with third parties as well as organization team
- Test the design and details of different types of medium
- Coordinate with the manufacturer, generate instructions to be followed
- Implement features if any feedback is given by the client
- Review the final design and provide feedback for improvements
Graphic designers also have to coordinate with the people from the same company who are involved in the marketing and sales, department, etc to get their feedback. This ensures everyone is involved in the project and possible drawbacks are mitigated early on.
How to get into Graphic Design?
A degree in arts is a big plus to start a graphic design career. Though you can participate in various boot-camps as well as take Graphic Design Course to acquire skills in graphic designing.
Further, we know that humans are visual animals, we like things which are consistent. We associate meaning to various combinations of color - for example, red is usually used to represent the blood, anger, victory, etc in the same way we associate yellow with warm, hunger, trust, etc. As a graphic designer, you can exploit this human flaw. Create awe-inspiring arts that influence common people and designers alike.
As a graphic designer, your job is to hook the viewer and convey the information in such a way that it creates a long term impact in their mind. To achieve this, you have to be creative, it can include blending various designs together, playing with colors, playing with words, or convey emotions. All this is the quality that great graphic designers possess. If you can relate with the ability to imagine vivid imagery, then you can easily get into graphic design.
Popular tools used by Graphic Designers
- Adobe Suite of tools
Adobe Photoshop and Abode Illustrator are two of the most popular tools used by Graphic Designers around the world. With the help of these tools, you can create any kind of graphics. You can create banners, infographics, logos, templates, visiting cards, brochures, vectors, and many more.
The main advantage of Adobe Photoshop and illustrator is the number of effects, controls, and modifications it allows the user. It is suitable for advanced users. It has a steep learning curve and you have to take some form of training of Photoshop before you feel comfortable with the editing process in adobe tools.
Canva is a modern method of creating graphics - fast. This is an online web app where you combine various predesigned shapes and images to create stunning designs. You can easily create graphics for social media, infographics, presentation slides, and others in this field. This is beginner-friendly. If you are coming from Photoshop, this is easier than but offers less control over how you want to edit the final design. Canva is a paid application through a free version is also powerful for a single user or small teams.
Gimp is an open-source alternative to Adobe Photoshop. It has all the essential features, including advanced image manipulation. The notable feature is the cross-compatibility. You can use Gimp in Mac, Windows, and Linux. Gimp has a large community, so if you are stuck or face hurdles, you get support from the forums.
Inkscape is an open-source software to create vector graphics. Inkscape has features consisting of Drawing, Shape, Calligraphy, Pencil and Pen Tools, bitmap tracing, boolean operations, file formats, bitmap tracing, grouping objects, layers, etc. This is an alternative to adobe illustrator, it is cross-platform compatible, you can switch from one platform to another.
Common Graphic Design Fields
- Advertising Agencies
Advertising agencies are all about clever narrative/ dialogues and eye-catching graphics. The combination of a heat melting story and a unique graphic style creates a memorable moment in the mind of the viewer. This is the ultimatum of the advertising agencies. This is one of the fields where graphic design is extensively used.
- Web Design Agencies
Web design agencies first draft the initial layout of the web site and after the client approves the design, it is converted to HTML and then to a dynamic website. The web design field is one of the most challenging environment to work for. There are new design trends always popping up. It is the best way to learn essential graphics skills. In web design, you have to design every kind of websites so it is versatile and expands your experience. Therefore, there is a huge scope of graphic designing in web agencies.
- Brands
Brands, both new and old brands have to maintain their brand loyalty through reliable and consistent delivery of information. This information should be of the highest quality. The printing material should represent the value of the brand. Trying to identify where branding is necessary and where it is not is essential. Graphic designers should care about these things when creating designing materials.
- Book, Magazines and Newspaper publishers
Books, magazines, and Newspapers are all about captivating imagery and presentation. You can find out the unique layout of information in popular magazines and newspapers. The front page of the printings is the ones that make or breaks the sales of these kinds of materials. Therefore this is one of the fields where graphic designers can shine.
- Television and broadcasting agencies
Television and other broadcasting agencies use graphic designs to view ads as well as present the information on the television. A piece of logical and nicely layered information with contented color combinations is the key to winning an audience in the Television industry. As a graphic designer, you can use your skills in this field too.
Future of Graphic Designers
Graphic design is a long haul career. The future for passionate and dedicated designers who are creative and have a will to make a career in this field is very bright.
In the Graphic Design field, the designs become stale rapidly, you have to be up-to-date with the design trends and recommend these new design trends to your clients so that they gain upper hand to their competitors. This ensures you learn new design concepts, which is important for your growth and staying relevant.
The recent freelancing trend has created a new door of opportunities for designers all around the world. Especially for the graphic designers in Nepal, they can earn while working from the comfort of the home. For full-time designers, this can be a part-time job to earn extra cash and learn new design techniques.
This is a great time to start your graphic design career. Here in TechAxis, we provide exclusive graphic design courses from professional graphic designers. Contact us to enroll.
Graphic Design Scope in Nepal
The demand for quality and consumer expectation is the driving force of an economy. Because of the demand from the consumer, innovation in many fields is achieved. In the same way, graphic design is one of the fields where a new and new form of designing concepts are introduced to appeal to the consumers.
Likewise, Nepali consumers are also demanding quality service. To represent the quality of service, the first thing that the consumers are exposed to the product is through digital media. And digital media expects to catch graphics to influence and become memorable in the consumer's mind. Good graphic design creates a long term impact. This is what every organization wants to achieve. And just wanting is not enough, they require a skilled and creative designer to craft graphics that shows the warmness, coolness, trust, reliability, consistency, etc of an organization.
Once you are good at designing basic graphics such as brochures, visiting cards, etc. You can advance your career to web design because you will have the experience of building graphics for every kind of business, most of them have to have an online presence. For example, restaurants have online ordering website likewise, a newspaper agency has a website, hospitals, magazines and so on.
The scope of graphic design in Nepal is wide and expanding. This is because half a decade ago, graphic designers were limited to designing, editing, and modifying photographs but the situation has changed because of the rapid technological advancement and exposure of Nepali consumers to global products that are high in quality. Which means they are exposed to visual intricacies that are of global standards. This has made the businesses in Nepal to raise their standard to attain customers. In other words, the companies in Nepal are seeking skilled, passionate, and creative designers.