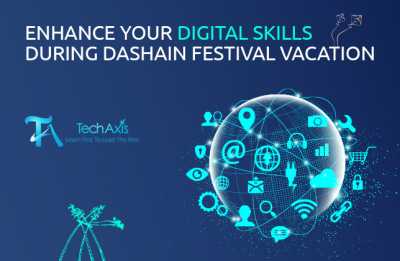 Enhance Your Digital Skills During Dashain festival Vacation
When the long holiday of Dashain comes knocking on your door, it's understandable if you dread its imminent arrival. After all, this means that a whole month of vacation awaits you, during which every day will be packed with various kinds of celebrations

It won't be so bad if you know how to make the most of the long vacation. Besides visiting relatives and friends, one way to keep our spirits high throughout the 15 days of festivities is by keeping ourselves busy with new and exciting activities.
With so many people going on extended vacations to spend time with their families or traveling somewhere exotic, there isn't much available regarding digital skills training programs for young adults and university students who are getting ready for their new academic year.
But let us not despair! There are still ways that we can improve our digital skills during Dashain vacation, from attending online courses to reading books. Here's how you can do just that:
How can You Use Your Dashain Vacation for Productive Activities?
There are plenty of online courses by Tech Axis that can help you improve your digital skills. Whether you want to learn how to code, build a website, or design graphics, there's a course for you.
And the best part? You can learn at your own pace, in the comfort of your own home. So why not give it a try? You might be surprised at what you can achieve.
8 Excellent Digital courses to learn/improve skills
What are some excellent digital courses to learn during Dashain? Let us help you out!
We have some amazing courses that will help improve your digital skills, including social media marketing, website development, and online advertising. These courses are perfect for anyone who wants to learn or improve their skills in today's digital age.
What's more, our courses are affordable and easy to access. You can learn at your own pace, and there is no need to travel or attend classes in person. So what are you waiting for? Sign up today and start learning!
You re probably taking a break from work right now to enjoy Dashain. But that doesn't mean you can't learn something new at the same time. Here are 8 excellent fields to improve your digital skills.
1. Master Social Media Marketing (SMM)
This course will teach you how to create a social media strategy, identify your target audience, and develop content that resonates with them.
2. Master in Search Engine Marketing (SEM)
This will help you to learn to rank the business in Search Engines like Google, Yahoo, Bing, etc. through the marketing mechanism.
3. Master in Search Engine Optimization (SEO)
Search Engines Optimization helps you to rank the business website to the search engines through the implementation of different mechanisms. Specifically, you can make the presence of your website an organic way. SEO includes
WordPress Designing
Learning WordPress Designing unlocks the ability to craft a website for the business, without any coding required.
Create an online store
You can learn how to set up an online store with Shopify or related eCommerce platforms on WordPress and start selling your products worldwide.
Develop your digital presence
A strong digital online presence reflects to enhance the quality of the brand and attracts the right customers. It would be worthy and productive to invest valuable leisure time during Dashain's vacation to make you available to the right customer.
Get started with Google Analytics
You can learn how to use Google Analytics to track website traffic and measure the success of your marketing campaigns.
4. Learn to code from scratch
Learning to code from scratch unlocks the opportunities to sell your skills in the job space around the world. You can utilize your leisure time to learn coding to add ingredients to your digital skill.
5. Design beautiful emails
Crafting beautiful and effective email campaigns helps you to scale sales. It extensively helps in the marketing campaign.
6. Maximize your LinkedIn profile
Maximizing your LinkedIn profile, connecting with potential employers, and showcasing your skills and experience. That drives you to find quality jobs easily.
7. Create a stunning resume
Creating a stunning resume helps you to stand out from the competition and catches the attention of potential employers. In leisure time during Dashain, it would be more productive to learn this skill.
8. Develop your Graphic design skills
Developing your graphic design skills helps to make a great career and there are plenty of online resources to help you out. Of course, Here's Tech Axis to help you out. By spending some time learning about design, you'll be able to create beautiful and professional-looking pieces.
Conclusion
Developing digital skills have become one of the most crucial factors in giving an appropriate pace to your career. Try to use different devices and apps. This will help you understand how they work and how to use them more effectively. Don't be afraid to ask for help. We are 24/7 active to help you to share our extensive experience with you. So don't hesitate to reach out if you need some guidance.
We hope you have a great vacation!